Preparing for AI Revolution—Unlocking Productivity Management Secrets for Project Managers
Synopsis:
Are you anxious about the rampant spread of AI and its impact on project managers? AI has transcended into a new reality in recent months, particularly evident with advancements like ChatGPT and the explosive surge of AI Apps, revolutionizing the way projects are managed.
Join our Master Class Trainer as he unravels AI's immense potential in project management. From optimizing mundane administrative tasks to boosting team performance and project outcomes, AI is the key to staying ahead of the curve. Let AI take the reins while you focus on delivering unparalleled value and groundbreaking solutions.
Discover how AI will reshape each facet of project management knowledge areas, with real-life applications you can start leveraging immediately. Unleash your soft skills as a human project manager, partnering with AI to conquer routine tasks. Prepare for the future—relearn, motivate, build trust, negotiate, ideate, empathize, and rely on intuition. Are you ready to seize the future?
Details:
In the last 6 months, Artificial Intelligence (AI) has transitioned from an academic topic to a tangible reality, particularly evident with advancements like ChatGPT, Google BARD, Meta Llama and the proliferation of AI Apps. This significant development is poised to revolutionize the field of Project Management as we speak.
The Master Class Trainer will commence by covering the fundamentals of artificial intelligence and then delve into specific areas of project management that will soon witness the implementation of AI tools. The impact of AI on team performance and project outcomes will be substantial, positioning early adopters of AI tools as frontrunners in the field.
According to a survey conducted by Harvard Business Review, administrative tasks consume 54% of a project manager's time. These mundane tasks, universally disliked by project managers, can be optimized through the use of artificial intelligence. By streamlining these tasks, project managers can redirect their focus towards delivering value and providing unparalleled solutions.
Examples of such tasks span various knowledge areas of project management, including follow-ups, meeting minutes, risk identification, issue analysis, budgeting, schedule management, and resource assignment. The presenter will explore these areas in detail, showcasing real AI applications that the audience can begin leveraging immediately.
Furthermore, the presenter will emphasize the key areas in project management where project managers must concentrate their efforts to bring value. Soft skills play a vital role, as human project managers will excel by harnessing AI tools to handle routine tasks. These skills include the ability to unlearn and relearn, motivate team members, build trusting relationships, negotiate effectively, ideate, demonstrate empathy, and rely on intuition. Such changes are inevitable and will fundamentally transform current project management practices. Are you prepared for the future?
Throughout the Master Class, the audience will actively engage and interact using tools such as Menti-meter or Kahoot.
Key Takeaways:
1. Understanding of Artificial intelligence
2. How AI will help PM to leverage AI Tools? With hands on exercises
3. Value proposition for human project management function
4. Engaging deep thought-provoking talk
Speaker Profile: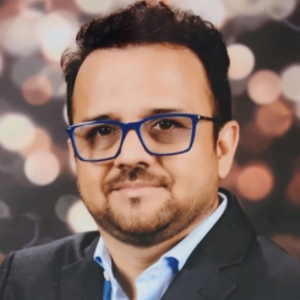 Mashhood Ahmed embarked on his research journey into the realm of artificial intelligence (AI) and its profound impact on project management practice in 2017. Over the years, he has shared his insights on this compelling subject at various global events such as PMI New Zealand (2018), PMI Singapore (2019), PMI PMO Symposium 2019, and number of other in-person and virtual gatherings. With an impressive career spanning over 18 years, Mr. Ahmed actively contributes to the project management field as a seasoned practitioner and management consultant. He also teaches project management at Grant MacEwan University. Currently he also serves as an AI Advisor to a project management software startup. He is also a member of the PMI Standard SME Group.
Mr. Ahmed holds a master's degree from the University of Waterloo in Business, Entrepreneurship, and Technology, along with Project Management Professional (PMP), Risk Management Professional (PMI-RMP), Certified Information System Auditor (CISA), Lean Six Sigma Green Belt and SAFe Scaled Agilist designations.
Later, this year in October he will be speaking at the PMI Global Summit, the largest gathering of project managers, in Atlanta, GA on the topic of "Unlocking Project-Portfolio Success: The Power of Balanced Scorecard for Project Portfolio Management".
It is no longer possible to register for this event