Welcome to the
PMI Binghamton, NY Chapter
Friday November 10, 2023 at 8:00AM
Preparing for AI Revolution—Unlocking Productivity Management Secrets for Project Managers
Monthly Chapter In-Person Meeting:
On Wednesday, September 13, our monthly Chapter meeting was held in person (for the first time since March 2020).  Our topic for this meeting was on the so called 4th Industrial Revolution (4IR).
In this presentation, Michael Milutis provided a technological overview of 4IR, and a simple set of heuristics to help Program Managers continue being proactive in:
1) the social, economic and political  challenges that this revolution is presenting across the planet;
2) how to frame their 4IR thinking in terms of business value;
3) how (and why) the 4IR workforce needs to redefine what work looks like and find new synergistic ways to adapt to technology;
4) how managers can quickly develop a practical, functional level of technological literacy that spans all of 4IR;
5) how project managers can take the lead in their organizations so that they can gain real world experience on 4IR projects;
6) what tools are available and why you must start using these tools immediately
About the Presenter:  Michael Milutis is an international keynote speaker, instructor, and 25 year veteran of the IT industry who has dedicated his career to helping individuals learn, develop, and compete within a shifting technology landscape. 
He has worked with organizations from around the world to develop innovative learning cultures and he coaches individuals and teams so that they can develop continuously, grow personally, and realize their highest potential.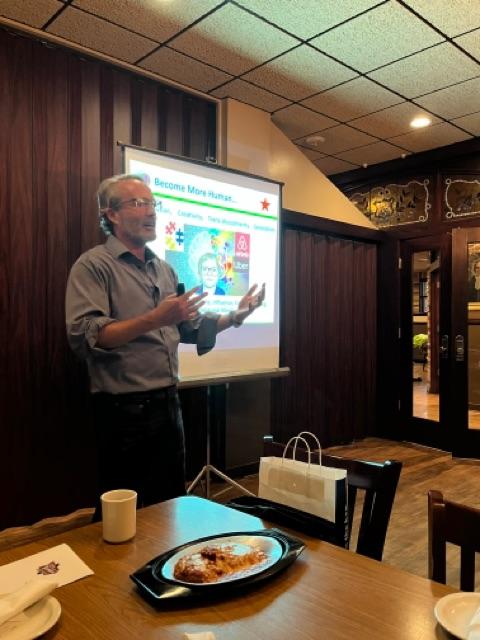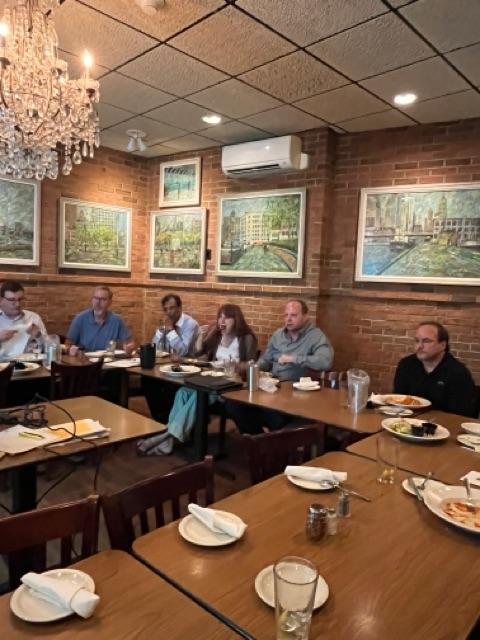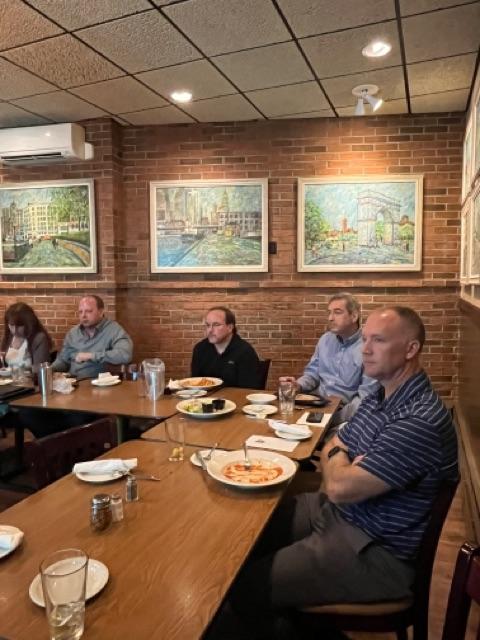 Elections:
Please take this upcoming opportunity to GIVE BACK to the project management profession and volunteer to serve on the PMI Binghamton board.  This is a chance to help your local chapter continue to evolve and provide quality services locally to project professionals just like you!
Happy 25th Anniversary PMI-Binghamton! 
This year marks our Chapter's 25th Anniversary!  Below is our original charter and a PMI issued certificate of achievement to commemorate this momentous milestone!  Thanks to our chapter founders and all present and past members!  We look forward to this occassion of celebration!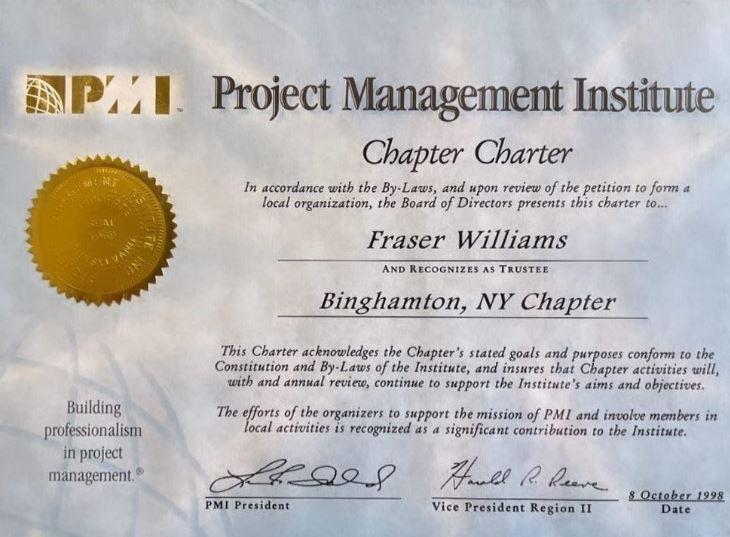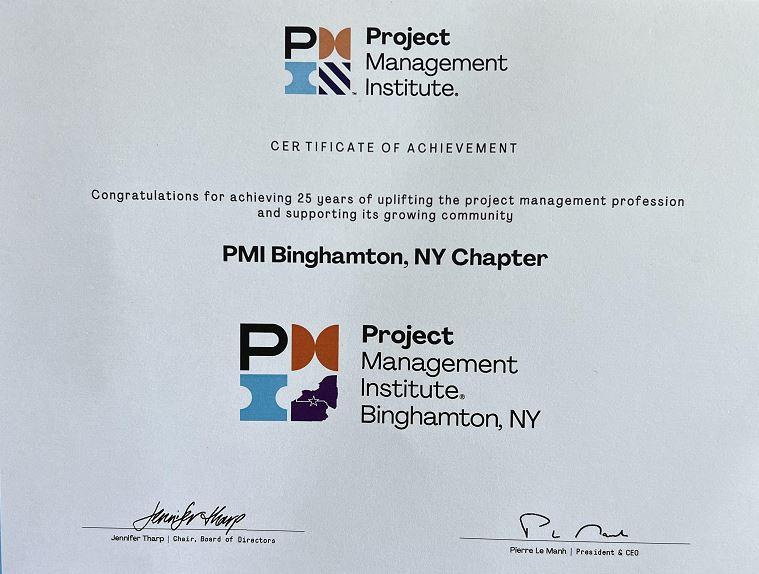 Chapter Board Spotlight
This month's Chapter Board spotlight features our wonderful President, Duane Theleman.  
Duane has a varietal background spending 13+ years in the telecommunications industry where at the tail end of that tenure, he was certified as a Telecommunications Project Manager (TPM).  After that, Duane spent some time with a local IT Systems Integrator and then 7+ years in Healthcare IT as a project manager.
Read More

We are excited to announce that the PMI Bingamton Chapter has partnered with International Institute for Learning (IIL), a PMI® Premier Authorized Training Partner (ATP).  By joining this program, our members now have access to preferred pricing on IIL's courses and online events. Learn more about our partnership and browse your benefits at: https://www.learning-center.iil.com/pages/pmibinghamton
We also have additional informatoin for this great opportunity at our PMI Binghamton Chapter ProDev Resources (pmi-binghamton.org) page.  
Welcome to the Projectified™ Podcast
Projectified™ is a lively forward-looking series of conversations about hot topics and emerging trends impacting the world of project managers, from digital transformation to artificial intelligence to career development. Each podcast episode includes insights and perspectives from senior and rising project managers, business leaders in Fortune 500 companies and startups, best-selling authors, top researchers and a wide range of leading-edge thinkers. All Projectified™ episodes are free to download.
More Information
Chapter Membership
US$30/year
Be part of the largest PM community
Get more, free opportunities to earn PDUs
Save on career-advancing certifications
Find relevant jobs with the PM Job Board
Stay up-to-date with PMI publications
Membership Statistics
Members with No Certification
0
Sponsorship Opportunities
The Project Management Institute, with members in 135 countries, is the world's foremost authority for the project management profession. PMI sets industry standards, conducts research, and provides education and certification opportunities designed to strengthen and further establish the profession. Our chapter proudly serves all the local and national professionals in the space of Project Management. We currently have thousands of members - over half of whom hold PMI's esteemed PMP certification - and represent nearly 400 unique companies across the globe.
Learn More
Find a Volunteer Opportunity
Make your mark on our PMI Chapter and the profession. As a member, you can volunteer to work on and to lead activities that advance the profession and support the chapter business operations by joining our chapter volunteer community. All volunteer openings are managed by the PMI Volunteer Relationship Management System (VRMS). This system includes the ability to search for opportunities, view details about each role and apply online.
Explore
Earn PDUs by Volunteering
Volunteering Project Management Professional PDUs can be earned as part of Category E: Volunteer Service. Category E, along with Category D (Creating New Project Knowledge) and Category F (Working as a Professional in Project Management), comprise the Giving Back To The Profession Categories. You can earn PDUs in Category E (Volunteer Service) by providing volunteer, non-compensated project management, and many others.
Learn More
Speakers for our Chapter's Events
Our PMI Chapter welcomes proposals from passionate speakers interested in sharing their experiences, knowledge and expertise on such topics as general business and strategy, leadership, project management, and technical or industry-specific specialties. Our Professional Development events provide professional development units (PDUs) of educational information necessary for those attendees maintaining certification designations. Speakers are also eligible to claim PDUs for their creation and delivery of the presentation material.
More Information